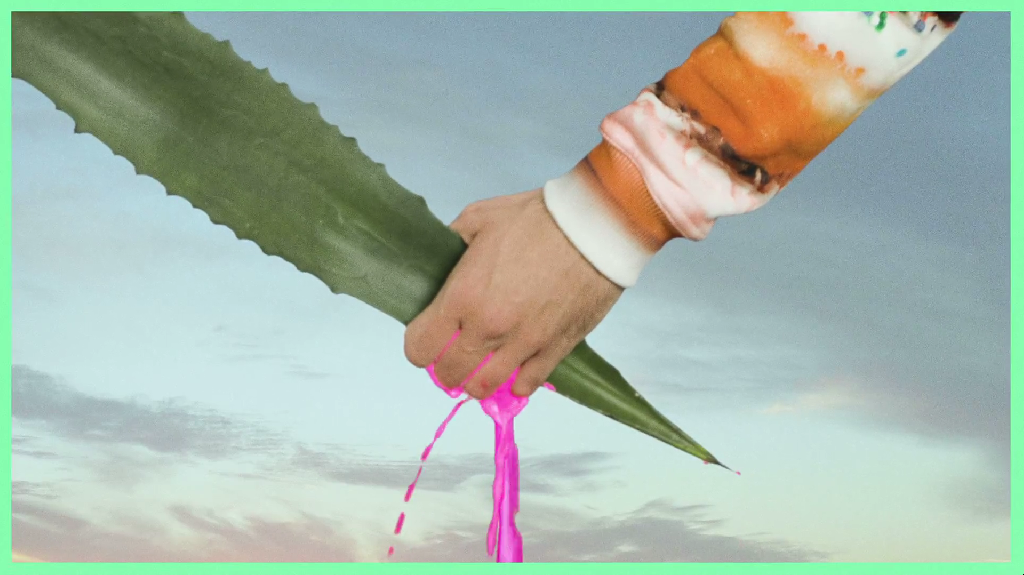 公開音樂錄影帶導演雙人團隊Brthr 列出2014年Top 15 的音樂錄影帶,無排行順序可言。
這15首好聽,音樂視頻又可能另種感受。
Brthr 的音樂錄影帶絕對都在我前幾名,而且都是喜歡的音樂。常常讓我截很多圖。明顯的風格及色彩、特別的運鏡,切入同齡的角度,及和音樂的高度搭配,快狠準。現在的音樂錄影帶風格都越來越強烈。不是迷幻紫紅藍色風(通常都有嗑藥意味)、清新色塊搭入動畫、玩節拍或強烈的特效。下列其中幾支風格也和他們非常相似。
下面有清楚列出藝術團隊和是否得獎
其中記得最清楚的是Arcade Fire 的〈We Exist〉
Camerimage 2014│ Music Video Competition │提名
57th Grammys (2015) │ Best Music Video │待審中
DJ Snake feat. Lil' Jon 的〈Turn Down For What〉誇張效果十足,也獲得超多提名獎項。Paolo Nutini的新歌〈Iron Sky〉也三提名、兩獲獎。 由鬼才Yoann Lemoine (aka. Woodkid) 導Black Atlass 的〈Jewels〉,無疑也在Brthr 榜上。



是蜘蛛人Andrew Garfield。聯想到電影《雙面勞倫斯》等電影。
超喜歡這首歌
Arcade Fire - We Exist

Arcade Fire - We Exist from David Wilson on Vimeo.
Director: David Wilson
Exec. Producer: Sue Yeon Ahn
Producer: Jason Baum
DP: Larkin Seiple
Lead Actor: Andrew Garfield
Choreographer: Ryan Heffington
Dancers: Hani Abaza, Tom Pardoe, Logan Schyvynck, and Austin Westbay
Gang: Preston Acuff, Gregoer Boru, Jacob Peacock and Steven Vulin
Old Couple: Barbara Conway and Greg Lucey
Bartender: John Whitaker
1st AD: Jesse Fleece
Art: Jason Kisvarday
Editor: Thomas Grove Carter @ Trim
Stylist: Francis & Pereira
Casting: Hayley Simpson @ Plaster Casting
Colorist: Simon Bourne @ Framestore
VFX: Munky & Chris Bristow
Sound: Neil Johnson @ Factory
Steadicam: Ari Robbins
Super 8mm footage (unused, but very much appreciated): Tag Christof
Special thanks to Coachella Valley Music and Arts Festival.





給新朋友介紹一下鬼才Yoann Lemoine(aka. Woodkid), Woodkid是他的樂隊,他是導演和作曲家。Lana Del Rey的〈Born to die〉和〈BLUE JEANS〉兩支音樂錄影帶都是導的。

Woodkid 事蹟
★傑出動畫師、音樂錄影帶導演(*Taylor Swift、Lana Del Rey、Katy Perry)躍居幕前首張奇情大作
★加值收錄先前發行EP同名單曲"Iron",不僅獲選為線上遊戲「刺客教條:啟示錄」宣傳主題曲,音樂錄影帶在YouTube瀏覽次數驚人逼近兩千萬次(截至2013年)
★進駐英國金榜單曲"Run Boy Run"入圍葛萊美獎「最佳音樂錄影帶」提名肯定

非常喜歡 Yoann Lemoine導的影片,這個太美了。
Black Atlass - Jewels

BLACK ATLASS - JEWELS from Yoann Lemoine on Vimeo.
Director: Yoann Lemoine
Featuring Anja Rubik
Production : Elias Belkeddar / Annabel Rosier
Director of Photography : Yoann Lemoine
1st Assistant Director : Antoine Poulet
1st Assistant Camera : Johan Leclaire Botarelli
Gaffer : Thierry Baucheron
Electrician : Sidney Baucheron
Key Grip : Samuel Fisher
Grip : Romain Chevalier
Wardrobe : Darcy Backlar
Hair : Jérôme Cultrera
Make up : Tracy Grey
Editing : Yoann Lemoine
3D Scanning : Yoann Lemoine
Post Production / CGI : Yoann Lemoine
Commissionned by Pierre Le Ny for Label GUM
Produced by Iconoclast




我想買新鍵盤。"敲打一族"
Tiga - Bugatti


Director: Helmi
Production : Division Paris



cute! 綠綠的
我截了好多張圖

The Dumplings - Technicolor Yawn

The Dumplings - Technicolor Yawn from mrmama.tv on Vimeo.
Written and directed by Arek Nowakowski / mrmama.tv
Set design and costumes: r2d2kolektyw.pl
Production Manager: Katarzyna Pajzderska
Make-up: Natalia Niedziela



Paul Boche和女友Jessamine-Bliss Bell!
so sweet~
旋律和歌詞絕美卻憂傷。
The Dove & The Wolf - The Words You Said

THE DOVE & THE WOLF - The Words You Said from zack spiger on Vimeo.
Director: ZACK SPIGER
Featuring Paul Boche and Jessamine-Bliss Bell
Cinematography by ZACK SPIGER
Steadicam Operator JF TUSO
Key Grip NICK KENT
Editorial by SACHA SZWARC
Color grade by VINCENT AMOR
Visual effects by PATRICK HEARN
Produced by OLIVIER BERNE
Shot on KODAK motion picture film
Film Processing and Scanning by ARANE GULLIVER


DJ Snake & Lil Jon - Turn Down for What

DJ Snake & Lil Jon - Turn Down for What from DANIELS on Vimeo.
Director: Daniels
Starring: Sunita Mani, Aixa Maldonano, Paul Hatter, Allie Lemelle, and Daniel Kwan
Producer: Judy Craig
Co Producer: Jonathan Wang
Executive Producer: Candice Oauknine
Commissioner: Bryan Younce
DP: Larkin Seiple
Production Designer: Jason Kisvarday
Stylist: Corban Poorboy
Edit: Paul Rogers
VFX: Zak Stoltz
Colorist: Ricky Gausis (MPC)
Production Companyv Prettybird



Childish Gambino ft. Problem - Sweatpants


Director: Hiro Murai
Producer: Jason Colon
Exec Producer: Danielle Hinde
Director of Photography: Larkin Seiple



等超久的卡司超強大的音樂錄影帶。導演還是NINJA自己,之前的音樂錄影帶也都是自己導的。NINJA是瘋狂男啊。
小心這首真的超中毒。
Die Antwoord - Ugly Boy


Director: NINJA

Production Company:
FACTORY FILMS, LTD.

Executive Producers: NINJA and ¥O-LANDI(夫妻檔)
Producer: STEVEN JOHNSON
Director of Photography: ALEXIS ZABE

Cast:
Jack Black
Marilyn Manson
Flea
Cara Delevingne(名模)
Dita Von Teese
ATL TWINS(紐約瘋狂雙胞胎)
CHARLOTTE FREE
ESTEVAN ORIOL
DJ MUGGS
TOKKIE
SUNNY BALZARY
SIXTEEN JONES
TRIGZ

Zef Dancers:
LAFAYETTE
FLASH

Production Design:
ANNIE SPERLING
MARC GREVILLE

Wardrobe Concept Design: NINJA

Wardrobe Styling:
ANNIE & HANNAH
RAQUEL ALLEGRA

¥O-LANDI'S Gold $$$ Hoodie
ALEXANDER WANG

Key Makeup: ANTHONY NGUYEN
Body Makeup/Body Paint: WILLIAM LEMON
God Mask by CHRIS CUNNINGHAM
Dance Choreography: NINJA
Editor: LEO SCOTT
Color Correction: MARSHALL PLANTE

Finishing / Online:
SHIPPING + HANDLING

Vfx (Blood Water Gun)
DORIAN CLEAVENGER

Cameras: PANAVISION




2014年Jack White 被評為最佳搖滾之一。
Jack White - Lazaretto


Director: Jonas & Francois
Director of Photography: Eli Born
Visual Effects:
Jonas & Francois, VFX
Mathematic, VFX


沙漠樂隊Queens Of The Stone Age 除了2014年被評為最佳搖滾之一。這之音樂錄影帶也獲獎,2014 UK MVAs的 "最佳搖滾/獨立視頻- 國際"。
超級想看現場!聲音像Muse一樣性感
Queens Of The Stone Age - Smooth Sailing


Director: Hiro Murai
Director of Photography: Larkin Seiple
Editor: Jacquelyn London
Production Company: Doomsday Entertainment

Producers:
Danielle Hinde, Executive Producer
Kimberly Stuckwisch, Executive Producer
Jason Colon, Producer
Sarah Lawson, Producer

Production:
Jesse Fleece, 1st Assistant Director
Michael Hart, 2nd Assistant Director

Production Design:
Hannah Hurney, Production Designer

Camera Department:
Matt Sanderson, 1st Assistant Camera
Jonathan Dec, 2nd Assistant Camera
Chris Hoyle, DIT (Digital Imaging Technician)

Makeup and Hair:
Sabrina Wilson, Special Effects Makeup Artist
Rebecca Friedman, Hair Stylist - Band

Costume and Wardrobe:
Elise Velasco, Wardrobe Stylist
Jason Alper, Wardrobe Stylist - Band

Art Department:
Kim Rice, Art Director

Stunts Department:
Robert Dill, Stunt Coordinator
Kyle Mohan, Stunt Driver

Electrical Department:
Matt Ardine, Gaffer

Grip Department:
Tom Hunt, Key Grip
Jack Shaw, Swing

Production Support:
Adrienne Nicart, Production Assistant
Travis Cultreri, Production Assistant
Mark Chase, Production Assistant




這個雙人導演團隊BREWER我也滿喜歡的。
導演了多首愛歌 Passion Pit的〈Carried Away〉 Two Door Cinema Club 的〈Changing Of The Seasons〉等知名樂隊。都是有電子風個的音樂。
Foster The People - Best Friend

Foster The People - Best Friend from BREWER on Vimeo.
Director: BREWER
Director of Photography: Pat Scola
Production Company: Prettybird

Producers:
Candice Ouaknine, Executive Producer
Braxton Pope, Producer
Ross Levine, Producer

Video Commissioner: Saul Levitz
Director's Rep.: Lark Creative

Production:
Jesse Fleece, 1st Assistant Director
Mitchell Jones, 2nd Assistant Director
Alex Ayuso, Truck PA

Production Design:
Jason Kisvarday, Production Designer
Madelyn Kime, Set Dresser
Kelsi Ephraim, Set Decorator

Camera Department:
Jake Bianco, 1st Assistant Camera
Elver Hernandez, 2nd Assistant Camera
Alex Kornreich, Camera Operator
Rachel Fox, DIT (Digital Imaging Technician)
Joe Rodmell, Techno Crane

Makeup and Hair:
Melinda Dean, Key Hair
Analyn Cruz, Makeup Assistant
Klark Philips, Hair Assistant
Huga Villasenor, Key Makeup Artist
Candice Birns, Artist Hair Stylist

Costume and Wardrobe:
JAK, Stylist

Art Department:
Timothy Wilusz, Lead Man
Carli Moloney, Prop Master

Animation:
Alex Brewer, Animator




Lorde - Yellow Flicker Beat (Director's Cut)

Lorde - Yellow Flicker Beat (Director's Cut) from Emily Kai Bock on Vimeo.
Writer/Director/Editor: Emily Kai Bock
DP: Evan Prosofsky
Production Company: Iconoclast
Executive Producer: Kathleen Heffernan
Producer: John Nguyen
Production Designer: Inbal Weinberg
Production Supervisor: Carrie Bornstein
1st AD: Josh Hartstoe
Steadicam: David Isern
1st AC: Zach Rubin
Gaffer: TJ Alston
Key Grip: Alex Engle
Art Coordinator: Erin Beaupre
Location Manager: Teddy Yoon
Background Casting/Assistant Stylist: Megan Platts
Background Stylist: Hillary Rose
Color/Vfx: Eric Schwalbe and Dulany Foster at Crew Cuts




真的超迷戀Paolo Nutini 的嗓音
Paolo Nutini - Iron Sky

Paolo Nutini 'Iron Sky' from Daniel Wolfe on Vimeo.
Director: Daniel Wolfe
Director of Photography: Robbie Ryan
Production Company: Somesuch & Co

Producers:
Tim Nash, Executive Producer
Sally Campbell, Executive Producer
Matthew Wolfe, Executive Producer
Lee Groombridge, Producer

Video Commissioner: Dan Curwin




這個真的讓我超昏眩
TOBACCO feat. Notrabel - Streaker

TOBACCO "Streaker" from Eric Wareheim on Vimeo.
Director: Eric Wareheim
Producer: Hillary Calhoun
Edit: Bill Benz
Costumes: Amanny Ahmad and Liz Lee

Starring:
Jasmine Albuquerque
Cyrille Autin
Gabriella Cataldo
Marius Iliescu
Joe Stakun
William McCarthy
Nina McNeely
Xavier Powers
Vera R. Taylor
Hair & Makeup by Tina Cohen
1st AD - Ian Putnam
DP - Andrew Wheeler
Production Designer - Melanie Mandl
Art Director - Dean Styers
Set Decorator - Sarah Staskauskas
Set dressers - Marty van Diest and Fernando Marroquin
Set painter - Jesse vogel
Shopper - Tommi Zabrecki
Graphics - Henry Kamp
Asst. to Producer - Kat Castillo
Production Assistants - Damian Lang, Alex Kanakis, Nancy McLeod, Greg Mullin



Bergen Kremer - Groza


Director: Leila Masharipova
Director of Photography: Mikhail Khasaya

Producers:
Pavel Karykhalin, Producer
Lev Maslov, Producer

Costume and Wardrobe:
Polina P, Stylist

原文處
BRTHR's Top 15 Music Videos of 2014
http://imvdb.com/blog/brthrs-top-15-music-videos-of-2014-62876